Manchester 'Dirty Protest' for Bowel Cancer Awareness Month.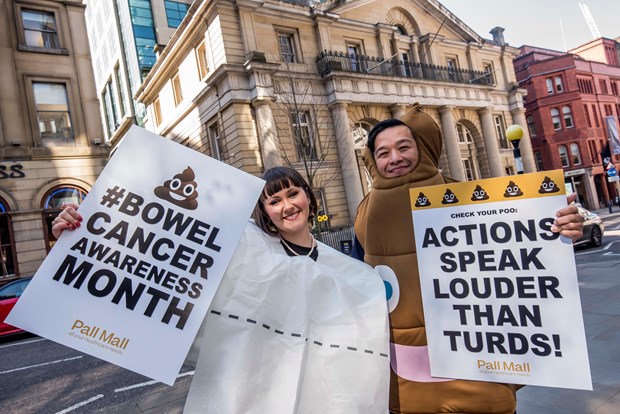 Breathlessness, fatigue and having the urge to go when you don't need the toilet, could be lesser-known symptoms of bowel cancer – a top doctor has revealed.
Each year, almost 17,000 people in the UK die of the disease which is the nation's second biggest cancer killer.
But if caught early, sufferers stand a good chance of recovery – providing they know what to look out for and are aware of the straightforward tests that are available.
"Bowel cancer is the second biggest killer next to lung cancer," said Dr Tang, Medical Director of Pall Mall.
"Most cases are diagnosed at an advance stage unfortunately, this means the only options are surgery, chemotherapy, and a low probability of survival.
"Yet if caught early, it can usually be cured," he said.
The three main symptoms of bowel cancer are blood in the stools, changes in bowel habits – such as more frequent, looser stools and stomach pain.
"These symptoms are very common and most people with them do not have bowel cancer," added Dr Tang.
"Blood in the stools is more often caused by piles, and a change in bowel habit or abdominal pain is usually the result of something you have eaten. So, you shouldn't presume it's something sinister.
"If these symptoms are persistent, however, it would be wise not to dismiss them for other conditions and have them checked out," he added.
"Fortunately, there are advanced tests which can detect the early stages of bowel and colon cancer, meaning it can be caught before it's too late."
For those confused between the two, bowel cancer and colon cancer are the same in that they both develop from the inner lining of the large bowel or large intestine. Colon cancer is more specific to the colon part of the bowel, while bowel cancer can also affect the rectum and the anus.
Dr Tang says nine out of ten times, it's the over 60s who are more likely to develop the disease.
"Those who eat low fibre diets and processed meats are at higher risk, also," he added.
"And being overweight and inactive can up your chances of getting bowel cancer as well."
To mark bowel cancer awareness month in April, Dr Tang has shed light on the silent indicators which could suggest further investigation is needed. He's also encouraging people to talk openly about their toilet habits without being embarrassed.
"We all use the toilet – even royalty! It's as natural as night follows day," he said.
"So, if you've noticed a change in toilet habits, or you feel something isn't quite right, don't hold it in.
"Talk to friends, loved ones and of course healthcare providers. Chat sh*t, don't just sit on it!" 
Lesser-known symptoms of bowel cancer:
Shortness of breath
If you're short of breath this could be a sign of advanced bowel cancer that's spread to other parts of the body. Fatigue related to colon cancer will be severe and even after plenty of rest, will not go away. This extreme exhaustion may be caused by internal bleeding and anaemia.
Anaemia
Anaemia can be an early warning sign of colon cancer and is caused when the tumour starts to bleed. This reduces the levels of red blood cells and haemoglobin - an iron-rich protein needed to deliver oxygen and nutrients to tissues. This can lead to symptoms such as dizziness, fatigue, weakness and skipped or rapid heartbeats.
Fatigue
Fatigue related to colon cancer comes on suddenly and isn't relieved by rest or sleep. Anaemia can be the cause as can tumour cells competing for nutrients.
Urge to poop
Pain in your rectum or the urge to have a poop without producing one could be a sign that a tumour is growing in this area and causing stool to become trapped.
Featured in: